Warwickshire's living well with dementia strategy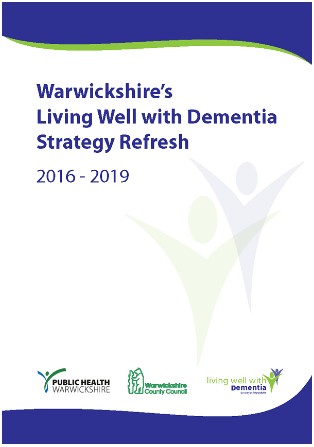 Warwickshire's first dementia strategy 'Living well with dementia in Warwickshire' was published in 2011. Since the launch of this strategy, there has been significant progress in terms of highlighting dementia as a key issue at a local level.
Warwickshire Dementia Strategy refresh 2016 to 2019 is a plan of how we will continue to meet the needs of people with dementia and their carers in Warwickshire. It outlines the needs and priorities of people with dementia in Warwickshire within the current policy and legislative context.
The vision for Warwickshire's Living Well with Dementia Strategy refresh 2016 – 2019 is: Warwickshire is a place where people can live well with dementia.
This means that people with dementia and their carers:
Have access to a timely diagnosis of their condition and are offered appropriate post diagnosis support following this.
Have access to high quality, personalised and integrated services across health and social care.
Are provided with support that is tailored to their requirements and is delivered by skilled and knowledgeable staff.
Have access to information and services that focus on early intervention, prevention and the importance of staying healthy at all ages.
Experience less stigma and discrimination as awareness of dementia and the creation of 'Dementia-friendly' communities increases.
The full strategy and delivery plan, which can be found below, which details how Warwickshire County Council, along with our strategic partners, will deliver these objectives. A summary is also available.